In this SEO case study, we will reveal the exact strategy we used to generate 24,605 website visitors for a qurbani services website.
Read on.
The Client
A Qurbani Services Company
A well-known qurbani services company which serves aqiqah and qurbani for over 27 years.
They also the pioneer in online qurbani services which offers secure and easy payment platform for qurbani participants.
Furthermore, this company also builds waqf properties such toilets and wells for Muslim in Cambodia.
The Challenge
Need for A Well Executed SEO Strategy
Mr H, marketing director of the qurbani services company, knew that a solid digital marketing strategy was crucial for his business's success.
Only a smart SEO strategy would help his site rank better and lend his brand credibility and help him carve a sizeable share in a highly competitive market.
Mr H began creating content marketing assets in-house that he and his team could use for brand growth and promotion.
He found that almost 70% of the website traffic is coming from Google and he wanted his site on the first page of Google.
Unfortunately, as Mr H quickly realised, creating content in-house is time-consuming, and not particularly effective if your team doesn't specialise in reliable SEO strategy.
So, in December 2019, Mr H reached out to Bomstart Media to see if we could help a qurbani services company improve their search engine presence and appeal to their target audience.
"We knew SEO is important for our digital marketing strategy, but quickly realised this wasn't our forte. Thankfully, Bomstart Media are our go-to SEO guys. They're strategic, creative, communicative, and easy to work with.

Mr. H, Marketing Director of Qurbani Services Company
The Solution
SEO-Focused Content Creation & Link Building Strategy
Bomstart Media's strategic SEO content creation and link building were exactly what Mr H was looking for.
Not only did we ideate content that resonated with Mr H company's brand, but we backed every content creation with deep customer insights and SEO best practices.
In Mr H's case, what he needed was keyword-rich content that would appeal to specific audiences looking for qurbani and aqiqah services on Google.
We came out with the plan; Bomstart Media created and published informative articles over the course of six months.
Bomstart Media also do backlink to the published article on the website to boost the ranking.
Our consistent link building strategy ensured that qurbani service website gets more traffic and helps convert it into leads.
"Hiring Bomstart Media is like hiring a dream team member; their expertise in SEO and content writing shine through in evert parts of their work. Every decision was made on data and information. The articles were well written and top-notch. Always update on the progress on a weekly and monthly basis. Responsive and always meet the dateline.
The Result
53X Traffic Growth in 6 Months
The results of Bomstart Media's SEO strategies speak for themselves: over 24,605 new website visitors in 6 months, high-quality backlinks, and most top keywords rank on the first page of Google search result.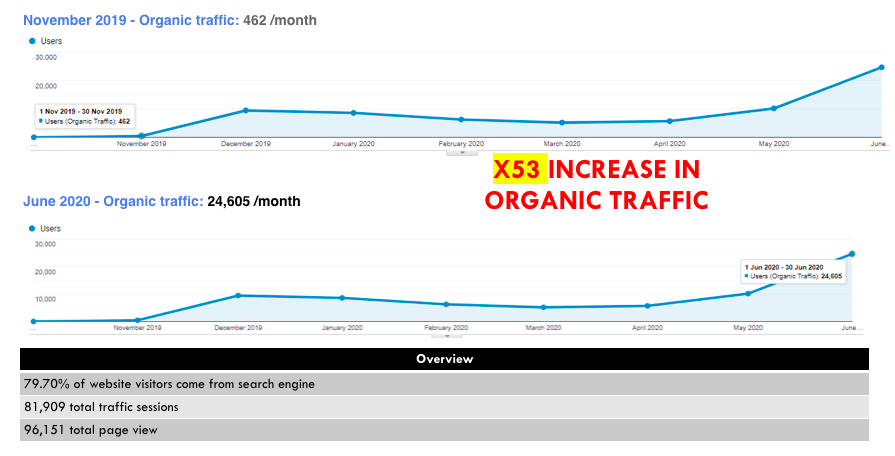 The website receives almost 2000 website visitors per month and the number of spikes in organic traffic during Eid Al-Adha celebration.
Plus, qurbani service website's search optimized content has also helped them gain a foothold in search results for many qurbani and aqiqah-related search terms, and their brand recognition continues to grow.
Since hiring Bomstart Media, Mr H and his company have reduced the spending on paid ads and were experimenting on other digital marketing channels for more profitable traffic generation such as SEO.
Mr H knows that the content created by Bomstart Media has been a key factor in the strong brand growth his company's been enjoying.
He's glad to have found a digital marketing agency he trusts to handle his SEO needs.
"Bomstart's brilliant digital marketing team helped us gain a strong search engine presence. That strong search presence has helped give us an edge over our competitors and continues to add credibility to our company as we reach out to new customers.
Bomstart Media's SEO-focused content takes your content marketing to a whole new level.
Learn how we can help you create content that ranks better, and turn more visitors into customers.