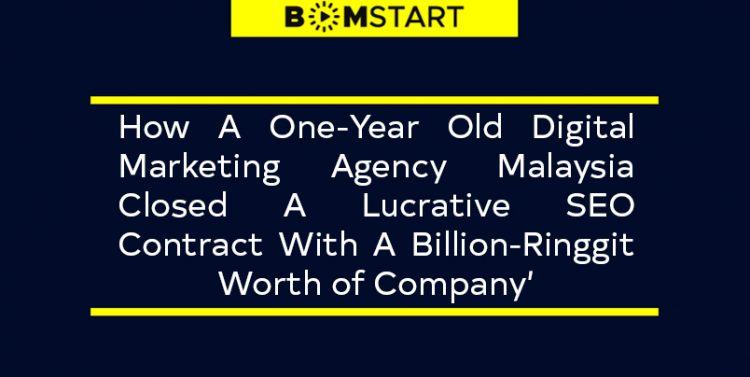 One. Year. Old.
That's the age of our digital marketing agency.
Looking back on what we have done so far, it was a tremendous achievement.
We improved in leaps and bounds in terms of the number of clients we served.
Consider we started by 2 persons only. Both had zero experience working in ad agency.
Now our team grows into 18 people in just 12 months.
Sounds like a miracle, right? Not so.
We are going to share with you the strategy we use to grow the company from scratch.
You will also learn how we closed clients and earn a lucrative SEO contract.
Particularly, with a billion-ringgit worth of a company.
(You'll see we how we did in a moment).
But first,
Why We Start A Digital Marketing Agency?
The market is in dire need for digital marketing.
Here why:
In Malaysia alone, companies are beginning to hiring digital marketers to keep up with the rise of e-commerce and online shopping.
While big companies have their own digital marketing specialists to run ads, boost website ranking or write content, medium enterprises are struggled to find the right talents to do the same thing.
On the other hand, there is an unbalanced supply and demand for digital marketers in Malaysia.
Someone with an impressive CV in marketing can't perform the task on rank a website on the first page of Google.
He even perplexed when asking about how to scale up the Facebook Ad budget.
A recent university graduate gets bogged down with being a digital marketer as he wears many hats in the company he works.
That's why we come in — to bridge the gap between supplying expertise in digital marketing to cope with the demand for digital marketing.
Launching The Agency At The Public Library
The story started when our CEO met our COO to discuss the initiation of the digital marketing agency in early 2018.
At that time, we had no office to get started.
So we went to the public library at Shah Alam instead.
We laid out the strategy to get clients and grow a team.
Although both of them came from different background, they knew ways to make Bomstart stands out from the other ad agencies.
So they spend hours in the library to map out the journey…
Suddenly, our COO said one phrase that changed the course of our future…
"What if we rank No.1 in Google and we get tons of clients?
From there on, we worked on our website to get clients from SEO.
In actuality, our CEO bought Bomstart.my domain in June 2015 for blogging and sharing about digital marketing and ecommerce.
We wanted to change the website layout for rebranding. It was not easy as we are busy with work and meeting with clients.
So we brought in a website developer in January 2019 to revamp the website.
We installed WordPress themes and plugins and transferred content into a new website.
We knew the previous SEO work was compromised, but we had to start from scratch again.
Identifying Top Search Keywords
Although we offer full-fledged digital marketing services, we know we have to focus on one service.
That means we have to flex our muscles on SEO.
So we researched the market, studied the competitors, and looked for opportunities.
We then realised most digital agencies ranked their websites based on one keyword, which was SEO Malaysia.
We knew it was a tough keyword to rank. Imagine a keyword every SEO agency in Malaysia fight for, and we wanted it too.
So created a plan of action, starting with the design phase, content phase, web development phase, review phase, and launch process to optimise our website.
We produced high-quality content to improve Bomstart's ranking for SEO Malaysia keyword.
RESULT: MAY 2019 
Disclaimer: Bomstart's No.1 position is based on the time the article is written. It may fluctuate from no. 1 to no. 2 on the Google search engine result page.
Bomstart's new website was up and running in February 2019, and in May 2019, we rank on the first page for SEO Malaysia and Malaysia SEO keywords.
We are delighted with the result as we also beat the other well-established SEO agencies.
Disclaimer: Bomstart's No.1 position is based on the time the article is written. It may fluctuate from no. 1 to no. 2 on the Google search engine result page.

The rest is history.
Now we served for more than 95 clients from different industries.
We have ranked more than 7000 keywords for our SEO clients.
More success stories were created.
Even recently, a billion-ringgit worth of company (hint: a property developer company) hires us to boost their website rank in Google.
And more and more companies are looking for our expertise.
We may a one-year-old company, but we have achieved what most digital marketing agencies have.
– More clients we can handle
– Grow a team like clockwork
– Get unstoppable leads for our SEO and digital marketing services
– Manage a company without too much hassle
Lucky for you, we reveal what we are doing in our exclusive talk:
This sharing session is open for business owners, marketers freelancers and ad agencies.
Our CEO and CEO will reveal step-by-step action plan to launch successful a digital marketing agency.
You will learn the strategy to build an agency from scratch…
You will know the right way to hire team members…
The simple formula to close a deal…
...and many more.
So if it interests you, have a look here
A reluctant chemist-turn-copywriter who transmutes big ideas into compelling copy. Since 2011, he had crafted copy for several SMEs and business owners, ranged from health and beauty industry, professional services and startups.