You might be familiar with the term "landing page" if you've depleted a hefty amount of time on online advertising. 
But what is a landing page? And how does it work? Is it that important?
The first step in building connection between your company and a potential consumer is through the conversion of a visitor into a  lead. 
Plummeting into the world of digital marketing, SEO, and paid search advertising, you are bound to encounter a bunch of technical jargons and concepts.
Fret not, this article has everything you need to know about landing pages and how they work.
What is a Landing Page?
Just as it suggests, a landing page is the first page a visitor "lands on" after clicking on a link.
A landing page could almost be everything- a home page, service page, contact page, or even a lead capture page.
However, when it comes to the realm of marketing, landing pages are usually a standalone page- different from a home page or other pages- which serves a single purpose:
To convert visitors into leads.
Therefore, a home page is not eligible to be a landing page as it is not designed to convert traffic from a particular marketing campaign.
You might want people to take certain actions from your landing page including making them subscribe to a newsletter, become a lead by submitting a form, or reach out to you.
Take a look at the following example of an effective landing page: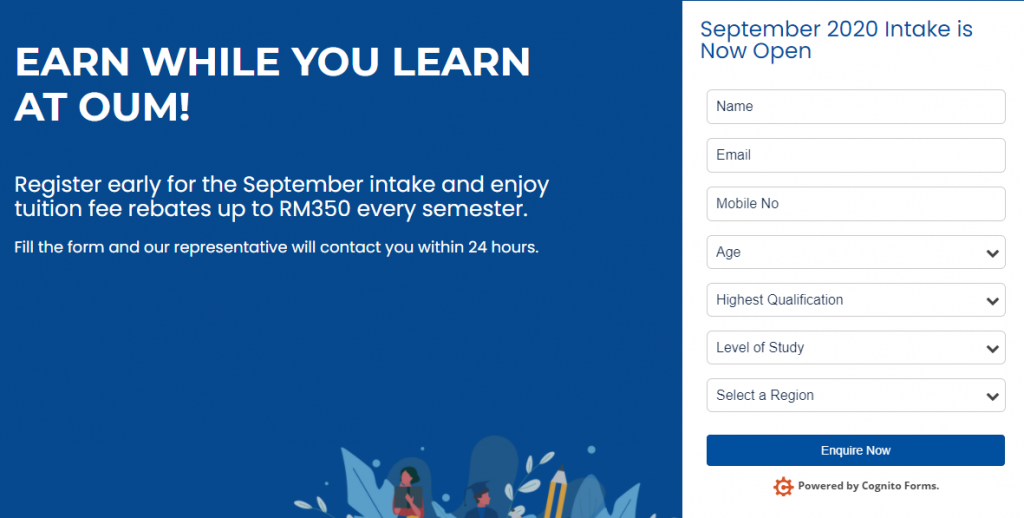 A good landing page is persuasive enough to convince a potential lead that it's worthy of providing personal details as a trade for anything you have to offer.
These conversion actions intend to accomplish the same goal- to turn people into paying customers- in which, ultimately, the goal of any landing page.
Creating a landing page may seem like an easy task, however, developing one that leads to conversion can be quite daunting.
It is inevitable for you to be wondering about how it fits into your marketing strategy. Here are some elements for you to consider upon creating one:
4 Elements of an Effective Landing Page
Now that we've cleared up the meaning of the term, it's time to get down on the important elements of an effective landing page.
Above-the-fold content
"Above the fold" is a term that refers to the first content visitors see on your landing page.
Since it's the first thing perceptible to users, you might want to utilize, really utilize the space.
A way to write a great headline is to understand who your audience is, why they're visiting your website and what solution they're expecting you to offer.
Once you've figured out the who, why and what, it's relatively easy to come up with headlines that convert.
However, it's important to note that your headline has to be more than an overview of your page- it needs to intrigue visitors in some way.
It should say something like "yes, you're in the right place and here's what we can offer you" to your visitor.
So, give your content team a good holler to come up with a copy as compelling as possible.
Tell them the benefits
You can fill up your entire landing page by going on and on about what you're good at. Here's what, people don't give two hoots about it.
The problem with most businesses is that they're downright egocentric.
And no, of course you didn't spend days and sleepless nights building and improving your business to not talk about how unique it is.
Here's a hard pill to swallow: they just don't care.
Most visitors to your site only care for one thing:
How does this make my life easier?
Depending on who you're marketing to or what you're selling, always focus on how it helps to make their life easier and not how awesome your offer is.
Use visuals
Don't overload your landing page with words.
Poorly designed landing pages can drive prospects away. If your landing page has high traffic but low conversions, it's probably due to its design.
What actually solves this problem? Use visuals.
So, they say pictures speak louder than words, sounds cliche right? This quote is actually practical when implemented in your landing page.
But how do you go use graphics meaningfully, and most important strategically to convert leads?
Product imagery doesn't evoke from a text-heavy landing page and people are lazy to read. They don't want to read an entire page long of how your products do them wonders.
They want to see your product. Or even better, your product in action.
Apart from breaking the monotony of text, visuals help users to comprehend information better as well as give them a clearer picture of the product.
The inclusion of graphics is not 'merely' putting pictures here and there.
You have to be deliberate in using them to communicate the core message effectively and facilitate conversion along the process.
Make a clear call to action (CTA)
Confuse the CTA, lose the conversion.
Most buttons on landing pages emphasise actions: sign up, subscribe, contact us etc.
Remember that you can't possibly fit in all of everything you have to offer in a single landing page. That will definitely leave users a bit of head scratching.
Having one propelling and specific benefit associated with the CTA helps to enhance conversions.
Specified offers incentivise users to take immediate action.
Add a few words to your CTA to yank their biggest objection from clicking.
Instead of saying "Start Free!", try "Start Free! No Credit Card Required". That way, it leaves no room for users to contemplate the hassle.
Finally, making your CTA outstanding and placing it prominently on the page ease the users' way to find it and take action.
Need help with your landing page?
Hire Bomstart Media. Expertising in digital marketing, we offer a wide variety of services to help your business grow.
From landing pages, to corporate websites and woo commerce, we've got you all covered.
Visit us on www.bomstart.my or contact us now for quotations!