Taking extra steps to promote your services will go a long way in helping you have an upper hand over your competitors. One of these steps is by using Google ads in Malaysia.
Have you wondered how it can help you increase your exposure to the public? Worry no more!
In this article, we will explain a Google Ad is and how it can help you. Read on to find out more!
What Are Google Ads?
First and foremost, we will explain to you what Google Ads are. Google Ads is a paid advertising platform that is pay-per-click where you have to pay per click or impression on your ad.
Is it an effective way as millions of people use Google every single day. Due to that, the chances of your advert being discovered by a potential customer is very high.
It also gives the freedom for advertisers to create and share their ads to make sure it is suitable for their targeted audience. This can be done for users of both mobile and desktop.
It is a great way for companies to share their message across in a way that symbolises their image.
How does Google Ads work?
Now, why are Google Ads so effective in generating more traffic to your website. Here are so numbers that will interest you.
Every day on Google, there are over 240 million visitors. Over 3 billion interactions and an estimated 700& return on your investment. These are mind-boggling numbers.
How they do work? Let us explain it to you. If you want to display your ads on Google, you will have to select between three campaign types which are:
We will now explain each one in detail, so you understand more.
1.Search Ads
Search ads are basically what you find on Google result pages. Take this for example. If you search for "medical card", it will show you ads of a few companies like below:
Because of this, potential customers will usually click the first one or the one after as they are much higher in the results. People will perceive that as a sign of reliability.
Aside from that, there is also another option of search ads if you want Google Ads in Malaysia. It is called responsive search ads.
This allows you to use multiple versions of headlines and ad copy to display to the world. It will test the variation that generates the most clicks that suits your target audience.
This will allow you to get the best option for your company.
2.Video Ads
Videos ads take place on YouTube. The ads can be displayed before, during or after YouTube videos.
The keywords that you want to display will show up on the screen and can help grab the attention of users. It will leave a lingering thought in the minds of potential customers.
As a result, they may visit your website after finishing watching the video.
3.Display Ads
There is a group under Google known as the Google Display Network. It the network of the website of companies and audiences that choose Google Ads.
Due to the overwhelming number of users every day, it brings many benefits as websites owners can be paid per click or impression on the ads.
For those who are advertising, it can allow them to get their message across to their preferred audience.
This is usually done by those who are running shopping campaigns or sales which is crucial in findings customers.
3 Reasons To Use Google Ads
High Chance of Finding Customers
As mentioned before, Google has a huge number of users every single day. This will allow you to easily find new customers and exposure for your company.
It can also help you expand internationally due to the wide array of users.
Generate Income
Google Ads in Malaysia will also allow you to generate income. Based on numbers from Google, it can help you make 8 times the amount that you spent on Google Ads.
This will allow you to promote your products while also help you generate some additional income.
Keep Up With Your Competitors
Nowadays, more and more companies are using Google Ads due to its many benefits. Due to that, it is important that you do not get left behind.
Choosing to use Google Ads can be the difference in you having an edge over your competitors.
How Much Do You Pay For Google Ads in Malaysia?
The best thing about advertising on Google is due to the cost. There is no minimum spend and also no commitment on your part.
You get to decide how much you want to spend. But then again, the higher you invest, the more likely it is your ads will get featured in the higher search results.
When you start, Goole will recommend a budget for you based on similar businesses to ensure that you will get an idea of what to do.
In America, many companies spend $9000 to $10,000 per month. However, it does not have to be the case for you as you can spend any amount that you want.
How To Setup Google Ads?
The process of setting up Google is very easy. First of all, you will have to visit the Google Ads site to set up your business' profile.
From there, just follow all the steps that are asked of you. It should take you no more than 10 minutes to set up your Google Ads.
There are also some other steps you can take to get the best out of your ads. Here are some of them:
Add UTM Codes
Urchin Tracking Module (UTM) are codes that Google use to track activities that take place with a specific link.
The codes will help you identify the most profitable and more effective parts of your ads.
Conversion Tracking
This helps you find out how much customers you have gained from your Google Ads. This can help you record the effectiveness of your ads and whether or not it is worth it.
Google Analytics
Google Analytics help you track traffic, conversions, goals, and any unique metrics. This will help you keep track of information regarding your ads.
Hiring a Digital Marketing Agency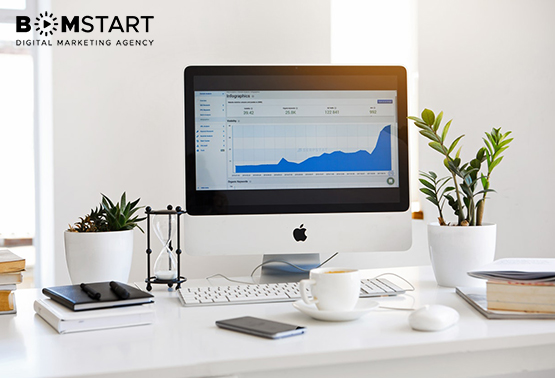 To get the best out of your ads, you should consider hiring a digital marketing agency such as Bomstart. It will also help you learn more if you are fairly new to this sector.
Here are some of the reason why you should hire us to help you market your services through Google Ads in Malaysia.
Comprehensive Keyword Research
We ensure you appear for the right searches by completing thorough keyword research upfront and monitoring your campaign's performance closely throughout.
High Converting Ad Creation
We write and produce the most effective ads to convert searchers into customers. We create multiple ad variations to achieve the highest conversion rates possible.
Landing Page Optimization
We create a landing page on your site tailored to receive the visitors that have clicked through from your Google Ads.
Split Testing
We set up comparisons to test the effectiveness of different ads. This will allow us to find better performing ads which produce results.
Monthly Report
We provide you with a detailed report of what was done and what the plan is for the coming month. You will also get suggestions and advice to improve ad performance.
In conclusion, using Google Ads in Malaysia to promote your services or product is a great way to acquire more customers.
It brings many benefits that can help you generate more income than ever before.
Need Help On Google Ads?
Contact Us For A Free Consultation >
Click here now